Sunburst Boat Company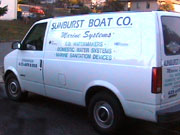 Sunburst Boat Company was established in 1985. We are located in the West Seattle area. Our experienced staff specializes in service and installation of reverse osmosis desalinators suitable for use on 25 feet pleasure crafts to cruise ships.
Marine Products
We are an authorized dealer for Blue Water Desalination, US Watermaker, and Headhunter, Inc. We also service and sell parts for: Sea Recovery, HRO or VMT and Off Shore Marine reverse osmosis desalinators. Horizon Reverse Osmosis (HRO) and Sea Recovery watermakers provide a range of watermaking capacities from 170 U.S. gallons (644 litres) to 44,000 U.S. gallons (166,558 litres) per day. These desalinators have the right capacity and configuration suitable for any mega, power, or sailing yachts and any commercial application.
We also carry Headhunter and Vacu Flush products.